History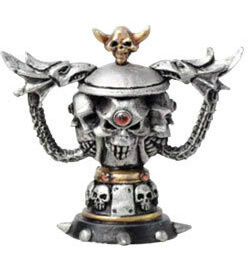 The Bloodweiser Blood Bowl Championship Winners' Trophy, also known as the Blood Bowl, or the Blood Bowl Championship, was initially awarded to the champions of the NFC and the AFC champions. Prior to 2461, Blood Bowl Championship games were played simply to determine who was the Best Team in the World, as a friendly exhibition tournament. When the Bloodweiser Corporation began its sponsorship, the surge in popularity and financial backing for marketing and advertising took the trophy to a whole new level[1].
The Blood Bowl Cup, also known as the Blood Bowl Trophy, or the Buddy Grafstein Trophy (the name of the chairman of Bloodweiser who first presented the Cup), is made from solid, Dwarf gold, and is extremely valuable in its own right. This, naturally, has led to its theft many times over the years, so much so that the current trophy is in its fourth incarnation. As this is a moving trophy, many Blood Bowl clubs have spent a lot of their money (or winnings) on security measures to keep it from being stolen[1].
With the collapse of the NAF in 2490, the Association of Broadcasting Conjurers (ABC) teamed up with Bloodweiser to host the 2491 Blood Bowl XXXI. Along with the Chaos Cup, the Spike! Open, and Dungeonbowl, these four tournaments are known as, "The Majors.[2]"
Prizes and Money
The prize and money offered to the winners of the Blood Bowl Championship are the Blood Bowl Trophy and 350,000 gold pieces. The losers receive 150,000 gold pieces. However, each individual player from both teams receives a Blood Bowl Player's Medal for participating in the final[2].