Jurassic World: Dominion Dominates Fandom Wikis - The Loop
Play Sound
General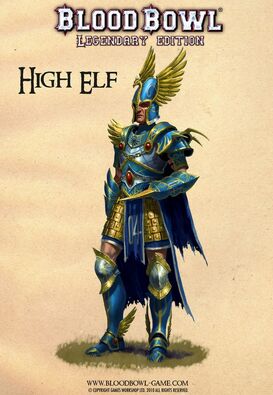 When Blood Bowl was first played, High Elves disdained the game. They believed there was no more to Blood Bowl than two teams of uncivilized yobs pummeling each other senseless in a display of mindless violence. It didn't take them long, however, to realize that there is nothing to beat seeing your team wipe out the opposition and win a hard-fought Blood Bowl game [1]!
High Elf teams, of which there are now quite a few, even after the collapse of the NAF, are reknowned for their passing game. Elf teams have many advantages when it comes to winning, and their fine players are the epitome of the more graceful side of the game [1].
The only real problem with High Elf teams is that they can be very picky about who, when, or where they play- who can forget the Galadrieth Gladiators refusing to play the Bright Crusaders because a) it was raining, b)the pitch was muddy, and c) the Crusaders' costumes were designed int he worst possible taste! Still, it's a miracle the High Elves play the game at all, so we must be thankful- High Elves find close proximity to others so galling... [1]
Famous High Elf Teams
Famous High Elf Star Players